Your HVAC system is your home's most expensive and arguably most important appliance. When your system breaks down on a sweltering summer day or bitter winter night, you're under a lot of pressure to quickly decide between an HVAC repair and replacement. Here's what you should know before you rush into a decision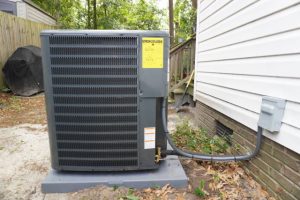 The Age of Your HVAC System
The average lifespan of an HVAC system is 15 to 25 years. If your broken-down system is under a decade old, a repair may be worth it. But if the system is over 15 years old and approaching the end of its lifespan, replacing it is probably your best bet.
The Cost of Upcoming Repairs
It almost always pays to pursue a repair before assuming you must replace your HVAC system. However, if a repair estimate exceeds 50 percent of the replacement cost, you're probably better off getting a new system.
Also, consider how much you've already spent on HVAC repairs recently. If your system has become unreliable and broken down more than once or twice in as many years, your money could be better spent on a high-efficiency replacement.
Your Unit's Energy Efficiency Rating
If your air conditioner is at least 10 years old, it likely has a seasonal energy efficiency ratio (SEER) of 13 or less. Likewise, your furnace probably has an annual fuel utilization efficiency (AFUE) rating of 80 or less. With the most advanced AC units rated 20 SEER or higher, and high-end furnaces approaching 100 AFUE, you stand to lower your energy bills significantly if you opt for HVAC replacement.
The Type of Refrigerant Your AC Uses
R-410A refrigerant, or Puron, has been the alternative to ozone-depleting R-22 refrigerant, or Freon, since 2010. Freon was completely phased out in 2020.
The problem is that Puron has a high Global Warming Potential (GWP). So starting in 2023, yet another refrigerant alternative called R-454B, or Puron Advance, will become the new standard. Puron supplies will remain available to repair existing equipment. Still, you may want to upgrade to a more eco-friendly air conditioner sooner rather than later.
Limited-Time Savings on HVAC Installation
Are you leaning toward replacing your heating and cooling equipment? To help you make your final decision, look for limited-time savings that could lower your overall investment.
For instance, AAA Heating & Air is offering up to $3,000 off the purchase of a new HVAC system. These savings are the culmination of a $1,500 instant rebate, a cash discount of up to 15%, and an additional $200 discount. We also offer guaranteed 0% APR financing to make your purchase as affordable as possible, plus an unheard of 15-year parts and labor warranty for your peace of mind. Whether you decide to repair or replace your HVAC system, AAA Heating & Air is here to help. We have years of experience installing, repairing, and maintaining a range of HVAC systems. For more information or to schedule HVAC services in Lexington and Columbia, SC, please call us at 803-653-6163 or contact us online.