7 Tips for Finding the Best Service for Heating and Air Conditioning Repair Near Me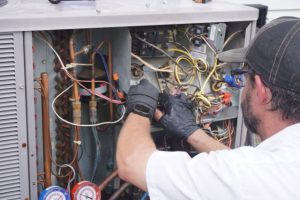 Finding a reliable and trustworthy heating and air conditioning repair service can be daunting. With so many options to choose from, it's important to do your research in order to make sure you hire the right person for the job. It is essential that you find someone who is experienced and skilled with complex systems like these, as they require special knowledge in order to be properly repaired. To help you out, here are seven tips for finding the best service for heating and air conditioning repair near me. From researching local businesses to looking for certifications, customer feedback reviews, warranties, and more – these tips will ensure that your system gets the care it needs. 
Research Local Businesses: Start your search by researching local businesses in your area. Look for reviews and ratings from past customers to get a better idea of the company's reputation. You should also make sure the business is accredited with any relevant industry organizations and has the necessary certifications to perform repairs on your specific system. 
Consider Experience and Skill Level: It is important that you hire someone who understands how complex systems like these work. Make sure you consider their experience level, as well as their skill set, when making your decision about which repair service to use. Experienced technicians may cost more up front, but it could end up being worth it in the long run if they are able to properly diagnose and repair your system quickly and efficiently. 
Look for Certifications: heating and air conditioning systems are complex machines, so it is important to only hire technicians who have the appropriate certifications. Make sure you inquire about all necessary certifications before hiring a repair service, as this will ensure that you're getting someone who knows what they're doing. 
Review Customer Feedback: Look for customer feedback from previous customers in order to get a better idea of how the repair service performs and if other customers have had positive experiences with them. You can also find out what services they specialize in and whether or not they offer additional benefits, such as warranties.  
Compare Prices: Take some time to compare the prices of different repair services in your area. It is important to get a good deal without sacrificing quality, so make sure you research each company thoroughly before making your decision. 
Consider Warranties: Repairs can be expensive, so it's important to consider warranties when selecting a repair service. Make sure you ask about any warranties they offer and the terms of these warranties before hiring a service. 
Ask Questions: Finally, make sure you ask plenty of questions before making your final decision. Gather as much information as possible to ensure that you're getting the best deal and the best service for your needs. 
Finding a reliable and trustworthy heating and air conditioning repair service near you doesn't have to be stressful. By following these seven tips, you can ensure that your system gets the care it needs and that you're getting the best value for your money.